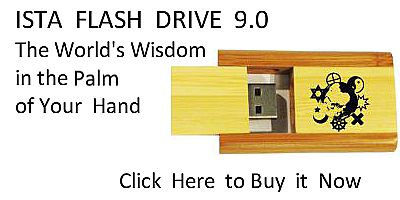 Sacred Texts
Islam
Index
Hypertext Qur'an
Unicode
Palmer
Pickthall
Yusuf Ali English
Rodwell
Sūra XI.: Hūd (The Prophet Hūd). Index
Previous
Next
---


The Holy Quran, tr. by Yusuf Ali, [1934], at sacred-texts.com
---
Sūra XI.: Hūd (The Prophet Hūd).
Section 7
---

69. Walaqad jaat rusuluna ibraheema bialbushra qaloo salaman qala salamun fama labitha an jaa biAAijlin haneethin
69. There came Our Messengers
To Abraham with glad tidings.
They said, "Peace!" He answered,
"Peace!" and hastened
To entertain them
With a roasted calf.
---

70. Falamma raa aydiyahum la tasilu ilayhi nakirahum waawjasa minhum kheefatan qaloo la takhaf inna orsilna ila qawmi lootin
70. But when he saw
Their hands went not
Towards the (meal), he felt
Some mistrust of them,
And conceived a fear of them.
They said: "Fear not:
We have been sent
Against the people of Lūt."
---

71. Waimraatuhu qa-imatun fadahikat fabashsharnaha bi-ishaqa wamin wara-i ishaqa yaAAqooba
71. And his wife was standing
(There), and she laughed:
But We gave her
Glad tidings of Isaac,
And after him, of Jacob.
---

72. Qalat ya waylata aalidu waana AAajoozun wahatha baAAlee shaykhan inna hatha lashay-on AAajeebun
72. She said: "Alas for me!
Shall I bear a child,
Seeing I am an old woman,
And my husband here
Is an old man?
That would indeed
Be a wonderful thing!"
---

73. Qaloo ataAAjabeena min amri Allahi rahmatu Allahi wabarakatuhu AAalaykum ahla albayti innahu hameedun majeedun
73. They said: "Dost thou
Wonder at God's decree?
The grace of God
And His blessings on you,
O ye people of the house!
For He is indeed
Worthy of all praise,
Full of all glory!"
---

74. Falamma thahaba AAan ibraheema alrrawAAu wajaat-hu albushra yujadiluna fee qawmi lootin
74. When fear had passed
From (the mind of) Abraham
And the glad tidings
Had reached him, he
Began to plead with Us
For Lūt's people.
---

75. Inna ibraheema lahaleemun awwahun muneebun
75. For Abraham was,
Without doubt, forbearing
(Of faults), compassionate,
And given to look to God.
---

76. Ya ibraheemu aAArid AAan hatha innahu qad jaa amru rabbika wa-innahum ateehim AAathabun ghayru mardoodin
76. O Abraham! Seek not this.
The decree of thy Lord
Hath gone forth: for them
There cometh a Penalty
That cannot be turned back!
---

77. Walamma jaat rusuluna lootan see-a bihim wadaqa bihim tharAAan waqala hatha yawmun AAaseebun
77. When Our Messengers
Came to Lūt, he was
Grieved on their account
And felt himself powerless
(To protect) them. He said:
"This is a distressful day."
---

78. Wajaahu qawmuhu yuhraAAoona ilayhi wamin qablu kanoo yaAAmaloona alssayyi-ati qala ya qawmi haola-i banatee hunna atharu lakum faittaqoo Allaha wala tukhzooni fee dayfee alaysa minkum rajulun rasheedun
78. And his people came
Rushing towards him,
And they had been long
In the habit of practising
Abominations. He said:
"O my people! Here are
My daughters: they are purer
For you (if ye marry)!
Now fear God, and cover me not
With shame about my guests!
Is there not among you
A single right-minded man?"
---

79. Qaloo laqad AAalimta ma lana fee banatika min haqqin wa-innaka lataAAlamu ma nureedu
79. They said: "Well dost thou
Know we have no need
Of thy daughters: indeed
Thou knowest quite well
What we want!"
---

80. Qala law anna lee bikum quwwatan aw awee ila ruknin shadeedin
80. He said: "Would that I
Had power to suppress you
Or that I could betake
Myself to some powerful support."
---

81. Qaloo ya lootu inna rusulu rabbika lan yasiloo ilayka faasri bi-ahlika biqitAAin mina allayli wala yaltafit minkum ahadun illa imraataka innahu museebuha ma asabahum inna mawAAidahumu alssubhu alaysa alssubhu biqareebin
81. (The Messengers) said: "O Lūt
We are Messengers from thy Lord!
By no means shall they
Reach thee! Now travel
With thy family while yet
A part of the night remains,
And let not any of you
Look back: but thy wife
(Will remain behind):
To her will happen
What happens to the people.
Morning is their time appointed:
Is not the morning nigh?"
---

82. Falamma jaa amruna jaAAalna AAaliyaha safilaha waamtarna AAalayha hijaratan min sijjeelin mandoodin
82. When Our decree issued,
We turned (the cities)
Upside down, and rained down
On them brimstones
Hard as baked clay,
Spread, layer on layer,—
---

83. Musawwamatan AAinda rabbika wama hiya mina alththalimeena bibaAAeedin
83. Marked as from thy Lord:
Nor are they ever far
From those who do wrong!