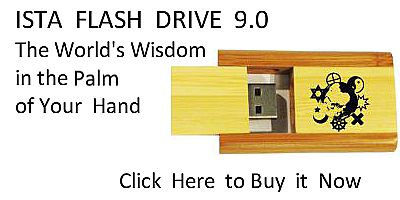 Sacred Texts
Islam
Index
Hypertext Qur'an
Unicode
Palmer
Pickthall
Yusuf Ali English
Rodwell
Sūra IX.: Tauba (Repentance) or Barāat (Immunity). Index
Previous
Next
---


The Holy Quran, tr. by Yusuf Ali, [1934], at sacred-texts.com
---
Sūra IX.: Tauba (Repentance) or Barāat (Immunity).
Section 16
---

123. Ya ayyuha allatheena amanoo qatiloo allatheena yaloonakum mina alkuffari walyajidoo feekum ghilthatan waiAAlamoo anna Allaha maAAa almuttaqeena
123. O ye who believe! Fight
The Unbelievers who gird you about,
And let them find firmness
In you: and know that God
Is with those who fear Him.
---

124. Wa-itha ma onzilat sooratun faminhum man yaqoolu ayyukum zadat-hu hathihi eemanan faamma allatheena amanoo fazadat-hum eemanan wahum yastabshiroona
124. Whenever there cometh down'
A Sūra, some of them say:
"Which of you has had
His faith increased by it?"
Yea, those who believe,—
Their faith is increased,
And they do rejoice.
---

125. Waamma allatheena fee quloobihim maradun fazadat-hum rijsan ila rijsihim wamatoo wahum kafiroona
125. But those in whose hearts
Is a disease,—it will add doubt
To their doubt, and they will die
In a state of Unbelief.
---

126. Awa la yarawna annahum yuftanoona fee kulli AAamin marratan aw marratayni thumma la yatooboona wala hum yaththakkaroona
126. See they not that they
Are tried every year
Once or twice? Yet they
Turn not in repentance,
And they take no heed.
---

127. Wa-itha ma onzilat sooratun nathara baAAduhum ila baAAdin hal yarakum min ahadin thumma insarafoo sarafa Allahu quloobahum bi-annahum qawmun la yafqahoona
127. Whenever there cometh down
A Sūra, they look at each other,
(Saying), "Doth anyone see you?"
Then they turn aside:
God hath turned their hearts
(From the light); for they
Are a people that understand not.
---

128. Laqad jaakum rasoolun min anfusikum AAazeezun AAalayhi ma AAanittum hareesun AAalaykum bialmu/mineena raoofun raheemun
128. Now hath come unto you
An Apostle from amongst
Yourselves: it grieves him
That ye should perish:
Ardently anxious is he
Over you: to the Believers
Is he most kind and merciful.
---

129. Fa-in tawallaw faqul hasbiya Allahu la ilaha illa huwa AAalayhi tawakkaltu wahuwa rabbu alAAarshi alAAatheemi
129. But if they turn away,
Say: "God sufficeth me:
There is no god but He:
On Him is my trust,
He the Lord of the Throne
(Of Glory) Supreme!