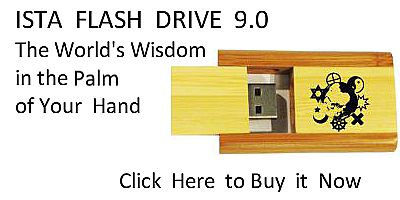 Sacred Texts
Islam
Index
Hypertext Qur'an
Unicode
Palmer
Pickthall
Yusuf Ali English
Rodwell
Sūra IX.: Tauba (Repentance) or Barāat (Immunity). Index
Previous
Next
---


The Holy Quran, tr. by Yusuf Ali, [1934], at sacred-texts.com
---
Sūra IX.: Tauba (Repentance) or Barāat (Immunity).
Section 13
---

100. Waalssabiqoona al-awwaloona mina almuhajireena waal-ansari waallatheena ittabaAAoohum bi-ihsanin radiya Allahu AAanhum waradoo AAanhu waaAAadda lahum jannatin tajree tahtaha al-anharu khalideena feeha abadan thalika alfawzu alAAatheemu
100. The vanguard (of Islam)—
The first of those who forsook
(Their homes) and of those
Who gave them aid, and (also)
Those who follow them
In (all) good deeds,—
Well-pleased is God with them,
As are they with Him:
For them hath He prepared
Gardens under which rivers flow,
To dwell therein for ever:
That is the supreme Felicity.
---

101. Wamimman hawlakum mina al-aAArabi munafiqoona wamin ahli almadeenati maradoo AAala alnnifaqi la taAAlamuhum nahnu naAAlamuhum sanuAAaththibuhum marratayni thumma yuraddoona ila AAathabin AAatheemin
101. Certain of the desert Arabs
Round about you are Hypocrites,
As well as (desert Arabs) among
The Medina folk: they are
Obstinate in hypocrisy: thou
Knowest them not: We know them:
Twice shall We punish them:
And in addition shall they be
Sent to a grievous Penalty.
---

102. Waakharoona iAAtarafoo bithunoobihim khalatoo AAamalan salihan waakhara sayyi-an AAasa Allahu an yatooba AAalayhim inna Allaha ghafoorun raheemun
102. Others (there are who) have
Acknowledged their wrong-doings:
They have mixed an act
That was good with another
That was evil. Perhaps God
Will turn unto them (in mercy):
For God is Oft-Forgiving,
Most Merciful.
---

103. Khuth min amwalihim sadaqatan tutahhiruhum watuzakkeehim biha wasalli AAalayhim inna salataka sakanun lahum waAllahu sameeAAun AAaleemun
103. Of their goods take alms,
That so thou mightest
Purify and sanctify them;
And pray on their behalf.
Verily thy prayers are a source
Of security for them:
And God is One
Who heareth and knoweth.
---

104. Alam yaAAlamoo anna Allaha huwa yaqbalu alttawbata AAan AAibadihi waya/khuthu alssadaqati waanna Allaha huwa alttawwabu alrraheemu
104. Know they not that God
Doth accept repentance from
His votaries and receives
Their gifts of charity, and that
God is verily He,
The Oft-Returning, Most Merciful?
---

105. Waquli iAAmaloo fasayara Allahu AAamalakum warasooluhu waalmu/minoona wasaturaddoona ila AAalimi alghaybi waalshshahadati fayunabbi-okum bima kuntum taAAmaloona
105. And say: "Work (righteousness):
Soon will God observe your work,
And His Apostle, and the Believers:
Soon will ye be brought back
To the Knower of what is
Hidden and what is open:
Then will He show you
The truth of all that ye did."
---

106. Waakharoona murjawna li-amri Allahi imma yuAAaththibuhum wa-imma yatoobu AAalayhim waAllahu AAaleemun hakeemun
106. There are (yet) others,
Held in suspense for the command
Of God, whether He will
Punish them, or turn in mercy
To them: and God
Is All-Knowing, Wise.
---

107. Waallatheena ittakhathoo masjidan diraran wakufran watafreeqan bayna almu/mineena wa-irsadan liman haraba Allaha warasoolahu min qablu walayahlifunna in aradna illa alhusna waAllahu yashhadu innahum lakathiboona
107. And there are those
Who put up a mosque
By way of mischief and infidelity—
To disunite the Believers
And in preparation for one
Who warred against God
And His Apostle aforetime.
They will indeed swear
That their intention is nothing
But good; but God doth declare
That they are certainly liars.
---

108. La taqum feehi abadan lamasjidun ossisa AAala alttaqwa min awwali yawmin ahaqqu an taqooma feehi feehi rijalun yuhibboona an yatatahharoo waAllahu yuhibbu almuttahhireena
108. Never stand thou forth therein.
There is a mosque whose foundation
Was laid from the first day
On piety; it is more worthy
Of thy standing forth (for prayer)
Therein. In it are men who
Love to be purified; and God
Loveth those who make themselves pure.
---

109. Afaman assasa bunyanahu AAala taqwa mina Allahi waridwanin khayrun am man assasa bunyanahu AAala shafa jurufin harin fainhara bihi fee nari jahannama waAllahu la yahdee alqawma alththalimeena
109. Which then is best?—he that
Layeth his foundation
On piety to God
And His Good Pleasure?—or he
That layeth his foundation
On an undermined sand-cliff
Ready to crumble to pieces?
And it doth crumble to pieces
With him, into the fire
Of Hell. And God guideth not
People that do wrong.
---

110. La yazalu bunyanuhumu allathee banaw reebatan fee quloobihim illa an taqattaAAa quloobuhum waAllahu AAaleemun hakeemun
110. The foundation of those
Who so build is never free
From suspicion and shakiness
In their hearts, until
Their hearts are cut to pieces.
And God is All-Knowing, Wise.