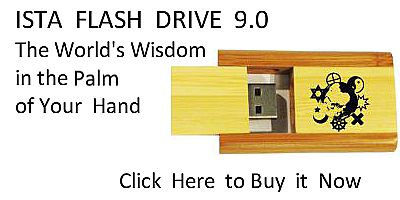 Sacred Texts
Islam
Index
Hypertext Qur'an
Unicode
Palmer
Pickthall
Yusuf Ali English
Rodwell
Sūra IX.: Tauba (Repentance) or Barāat (Immunity). Index
Previous
Next
---


The Holy Quran, tr. by Yusuf Ali, [1934], at sacred-texts.com
---
Sūra IX.: Tauba (Repentance) or Barāat (Immunity).
Section 3
---

17. Ma kana lilmushrikeena an yaAAmuroo masajida Allahi shahideena AAala anfusihim bialkufri ola-ika habitat aAAmaluhum wafee alnnari hum khalidoona
17. It is not for such
As join gods with God,
To visit or maintain
The mosques of God
While they witness
Against their own souls
To infidelity. The works
Of such bear no fruit:
In Fire shall they dwell.
---

18. Innama yaAAmuru masajida Allahi man amana biAllahi waalyawmi al-akhiri waaqama alssalata waata alzzakata walam yakhsha illa Allaha faAAasa ola-ika an yakoonoo mina almuhtadeena
18. The mosques of God
Shall be visited and maintained
By such as believe in God
And the Last Day, establish
Regular prayers, and practise
Regular charity, and fear
None (at all) except God.
It is they who are expected
To be on true guidance!
---

19. AjaAAaltum siqayata alhajji waAAimarata almasjidi alharami kaman amana biAllahi waalyawmi al-akhiri wajahada fee sabeeli Allahi la yastawoona AAinda Allahi waAllahu la yahdee alqawma alththalimeena
19. Do ye make the giving
Of drink to pilgrims,
Or the maintenance of
The Sacred Mosque, equal
To (the pious service of) those
Who believe in God
And the Last Day, and strive
With might and main
In the cause of God?
They are not comparable
In the sight of God:
And God guides not
Those who do wrong.
---

20. Allatheena amanoo wahajaroo wajahadoo fee sabeeli Allahi bi-amwalihim waanfusihim aAAthamu darajatan AAinda Allahi waola-ika humu alfa-izoona
20. Those who believe, and suffer
Exile and strive with might
And main, in God's cause,
With their goods and their persons,
Have the highest rank
In the sight of God:
They are the people
Who will achieve (salvation).
---

21. Yubashshiruhum rabbuhum birahmatin minhu waridwanin wajannatin lahum feeha naAAeemun muqeemun
21. Their Lord doth give them
Glad tidings of a Mercy
From Himself, of His good pleasure,
And of Gardens for them,
Wherein are delights
That endure:
---

22. Khalideena feeha abadan inna Allaha AAindahu ajrun AAatheemun
22. They will dwell therein
For ever. Verily in God's presence
Is a reward, the greatest (of all).
---

23. Ya ayyuha allatheena amanoo la tattakhithoo abaakum wa-ikhwanakum awliyaa ini istahabboo alkufra AAala al-eemani waman yatawallahum minkum faola-ika humu alththalimoona
23. O ye who believe! Take not
For protectors your fathers
And your brothers if they love
Infidelity above Faith:
If any of you do so,
They do wrong.
---

24. Qul in kana abaokum waabnaokum wa-ikhwanukum waazwajukum waAAasheeratukum waamwalun iqtaraftumooha watijaratun takhshawna kasadaha wamasakinu tardawnaha ahabba ilaykum mina Allahi warasoolihi wajihadin fee sabeelihi fatarabbasoo hatta ya/tiya Allahu bi-amrihi waAllahu la yahdee alqawma alfasiqeena
24. Say; If it be that your fathers,
Your sons, your brothers,
Your mates, or your kindred;
The wealth that ye have gained;
The commerce in which ye fear
A decline: or the dwellings
In which ye delight—
Are dearer to you than God,
Or His Apostle, or the striving
In His cause;—then wait
Until God brings about
His Decision: and God
Guides not the rebellious.