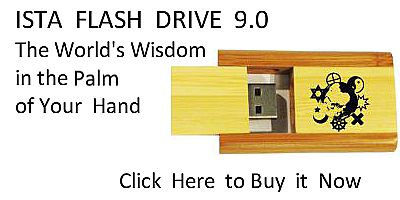 Sacred Texts
Islam
Index
Hypertext Qur'an
Unicode
Palmer
Pickthall
Yusuf Ali English
Rodwell
Sūra VII.: A'rāf, or the Heights Index
Previous
Next
---


The Holy Quran, tr. by Yusuf Ali, [1934], at sacred-texts.com
---
Sūra VII.: A'rāf, or the Heights
Section 24
---

189. Huwa allathee khalaqakum min nafsin wahidatin wajaAAala minha zawjaha liyaskuna ilayha falamma taghashshaha hamalat hamlan khafeefan famarrat bihi falamma athqalat daAAawa Allaha rabbahuma la-in ataytana salihan lanakoonanna mina alshshakireena
189. It is He Who created
You from a single person,
And made his mate
Of like nature, in order
That he might dwell with her
(In love). When they are
United, she bears a light
Burden and carries it about
(Unnoticed). When she grows
Heavy, they both pray
To God their Lord, (saying):
"If Thou givest us
A goodly child,
We vow we shall
(Ever) be grateful."
---

190. Falamma atahuma salihan jaAAala lahu shurakaa feema atahuma fataAAala Allahu AAamma yushrikoona
190. But when He giveth them
A goodly child, they ascribe
To others a share in the gift
They have received:
But God is exalted
High above the partners
They ascribe to Him.
---

191. Ayushrikoona ma la yakhluqu shay-an wahum yukhlaqoona
191. Do they indeed ascribe
To Him as partners things
That can create nothing,
But are themselves created?
---

192. Wala yastateeAAoona lahum nasran wala anfusahum yansuroona
192. No aid can they give them,
Nor can they aid themselves!
---

193. Wa-in tadAAoohum ila alhuda la yattabiAAookum sawaon AAalaykum adaAAawtumoohum am antum samitoona
193. If ye call them to guidance,
They will not obey:
For you it is the same
Whether ye call them
Or ye hold your peace!
---

194. Inna allatheena tadAAoona min dooni Allahi AAibadun amthalukum faodAAoohum falyastajeeboo lakum in kuntum sadiqeena
194. Verily those whom ye
Call upon besides God
Are servants like unto you:
Call upon them, and let them
Listen to your prayer,
If ye are (indeed) truthful!
---

195. Alahum arjulun yamshoona biha am lahum aydin yabtishoona biha am lahum aAAyunun yubsiroona biha am lahum athanun yasmaAAoona biha quli odAAoo shurakaakum thumma keedooni fala tunthirooni
195. Have they feet to walk with?
Or hands to lay hold with?
Or eyes to see with?
Or ears to hear with?
Say: "Call your 'god-partners',
Scheme (your worst) against me,
And give me no respite!
---

196. Inna waliyyiya Allahu allathee nazzala alkitaba wahuwa yatawalla alssaliheena
196. "For my Protector is God,
Who revealed the Book
(From time to time),
And He will choose
And befriend the righteous.
---

197. Waallatheena tadAAoona min doonihi la yastateeAAoona nasrakum wala anfusahum yansuroona
197. "But those ye call upon
Besides Him, are unable
To help you, and indeed
To help themselves."
---

198. Wa-in tadAAoohum ila alhuda la yasmaAAoo watarahum yanthuroona ilayka wahum la yubsiroona
198. If thou callest them
To guidance, they hear not.
Thou wilt see them
Looking at thee, but
They see not.
---

199. Khuthi alAAafwa wa/mur bialAAurfi waaAArid AAani aljahileena
199. Hold to forgiveness;
Command what is right;
But turn away from the ignorant.
---

200. Wa-imma yanzaghannaka mina alshshaytani nazghun faistaAAith biAllahi innahu sameeAAun AAaleemun
200. If a suggestion from Satan
Assail thy (mind)
Seek refuge with God;
For He heareth and knoweth
(All things).
---

201. Inna allatheena ittaqaw itha massahum ta-ifun mina alshshaytani tathakkaroo fa-itha hum mubsiroona
201. Those who fear God,
When a thought of evil
From Satan assaults them,
Bring God to remembrance,
When lo! they see (aright)!
---

202. Wa-ikhwanuhum yamuddoonahum fee alghayyi thumma la yuqsiroona
202. But their brethren (the evil ones)
Plunge them deeper into error,
And never relax (their efforts).
---

203. Wa-itha lam ta/tihim bi-ayatin qaloo lawla ijtabaytaha qul innama attabiAAu ma yooha ilayya min rabbee hatha basa-iru min rabbikum wahudan warahmatun liqawmin yu/minoona
203. If thou bring them not
A revelation, they say:
"Why hast thou not
Got it together?"
Say: "I but follow
What is revealed to me
From my Lord:
This is (nothing but)
Lights from your Lord,
And Guidance, and Mercy,
For any who have Faith."
---

204. Wa-itha quri-a alqur-anu faistamiAAoo lahu waansitoo laAAallakum turhamoona
204. When the Qur-ān is read,
Listen to it with attention,
And hold your peace:
That ye may receive Mercy.
---

205. Waothkur rabbaka fee nafsika tadarruAAan wakheefatan wadoona aljahri mina alqawli bialghuduwwi waal-asali wala takun mina alghafileena
205. And do thou (O reader!)
Bring thy Lord to remembrance
In thy (very) soul,
With humility and in reverence,
Without loudness in words,
In the mornings and evenings;
And be not thou
Of those who are unheedful.
---

206. Inna allatheena AAinda rabbika la yastakbiroona AAan AAibadatihi wayusabbihoonahu walahu yasjudoona
206. Those who are near
To thy Lord, disdain not
To do Him worship:
They celebrate His praises,
And bow down before Him.