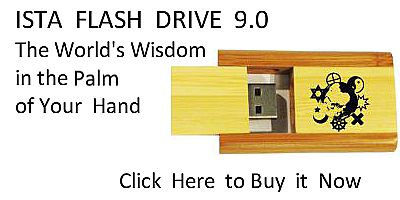 Sacred Texts
Islam
Index
Hypertext Qur'an
Unicode
Palmer
Pickthall
Yusuf Ali English
Rodwell
Sūra VII.: A'rāf, or the Heights Index
Previous
Next
---


The Holy Quran, tr. by Yusuf Ali, [1934], at sacred-texts.com
---
Sūra VII.: A'rāf, or the Heights
Section 22
---

172. Wa-ith akhatha rabbuka min banee adama min thuhoorihim thurriyyatahum waashhadahum AAala anfusihim alastu birabbikum qaloo bala shahidna an taqooloo yawma alqiyamati inna kunna AAan hatha ghafileena
172. When thy Lord drew forth
From the Children of Adam—
From their loins—
Their descendants, and made them
Testify concerning themselves, (saying):
"Am I not your Lord
(Who cherishes and sustains you)?"—
They said: "Yea!
We do testify!" (This), lest
Ye should say on the Day
Of Judgment: "Of this we
Were never mindful":
---

173. Aw taqooloo innama ashraka abaona min qablu wakunna thurriyyatan min baAAdihim afatuhlikuna bima faAAala almubtiloona
173. Or lest ye should say:
"Our fathers before us
May have taken false gods,
But we are (their) descendants
After them: wilt Thou then
Destroy us because of the deeds
Of men who were futile?"
---

174. Wakathalika nufassilu al-ayati walaAAallahum yarjiAAoona
174. Thus do We explain
The Signs in detail;
And perchance they may turn
(Unto Us).
---

175. Waotlu AAalayhim nabaa allathee ataynahu ayatina fainsalakha minha faatbaAAahu alshshaytanu fakana mina alghaweena
175. Relate to them the story
Of the man to whom
We sent Our Signs,
But he passed them by:
So Satan followed him up,
And he went astray.
---

176. Walaw shi/na larafaAAnahu biha walakinnahu akhlada ila al-ardi waittabaAAa hawahu famathaluhu kamathali alkalbi in tahmil AAalayhi yalhath aw tatruk-hu yalhath thalika mathalu alqawmi allatheena kaththaboo bi-ayatina faoqsusi alqasasa laAAallahum yatafakkaroona
176. If it had been Our Will,
We should have elevated him
With Our Signs; but he
Inclined to the earth,
And followed his own vain desires.
His similitude is that
Of a dog: if you attack
Him, he lolls out his tongue,
Or if you leave him alone,
He (still) lolls out his tongue.
That is the similitude
Of those who reject Our Signs;
So relate the story;
Perchance they may reflect.
---

177. Saa mathalan alqawmu allatheena kaththaboo bi-ayatina waanfusahum kanoo yathlimoona
177. Evil as an example are
People who reject Our Signs
And wrong their own souls.
---

178. Man yahdi Allahu fahuwa almuhtadee waman yudlil faola-ika humu alkhasiroona
178. Whom God doth guide,
He is on the right path:
Whom He rejects from His guidance,—
Such are the persons who perish.
---

179. Walaqad thara/na lijahannama katheeran mina aljinni waal-insi lahum quloobun la yafqahoona biha walahum aAAyunun la yubsiroona biha walahum athanun la yasmaAAoona biha ola-ika kaal-anAAami bal hum adallu ola-ika humu alghafiloona
179. Many are the Jinns and men
We have made for Hell:
They have hearts wherewith they
Understand not, eyes wherewith
They see not, and ears wherewith
They hear not. They are
Like cattle,—nay more
Misguided: for they
Are heedless (of warning).
---

180. Walillahi al-asmao alhusna faodAAoohu biha watharoo allatheena yulhidoona fee asma-ihi sayujzawna ma kanoo yaAAmaloona
180. The most beautiful names
Belong to God:
So call on him by them;
But shun such men as
Use profanity in His names:
For what they do, they will
Soon be requited.
---

181. Wamimman khalaqna ommatun yahdoona bialhaqqi wabihi yaAAdiloona
181. Of those We have created
Are people who direct
(Others) with truth.
And dispense justice therewith,