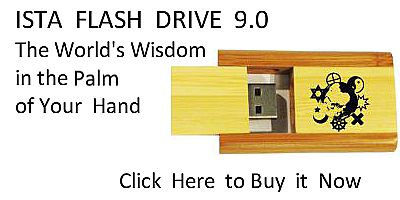 Sacred Texts
Islam
Index
Hypertext Qur'an
Unicode
Palmer
Pickthall
Yusuf Ali English
Rodwell
Sūra V.: Māïda, or The Table Spread. Index
Previous
Next
---


The Holy Quran, tr. by Yusuf Ali, [1934], at sacred-texts.com
---
Sūra V.: Māïda, or The Table Spread.
Section 15
---

109. Yawma yajmaAAu Allahu alrrusula fayaqoolu matha ojibtum qaloo la AAilma lana innaka anta AAallamu alghuyoobi
109. 112 One day will God
Gather the apostles together,
And ask: "What was
The response ye received
(From men to your teaching)?"
They will say: "We
Have no knowledge: it is Thou
Who knowest in full
All that is hidden."
---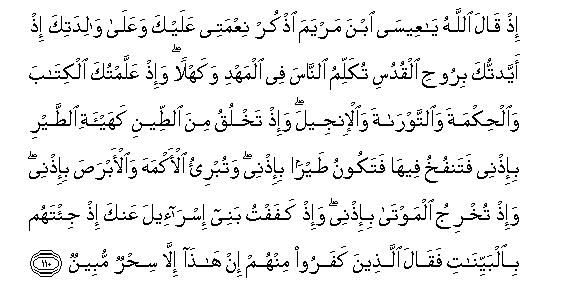 110. Ith qala Allahu ya AAeesa ibna maryama othkur niAAmatee AAalayka waAAala walidatika ith ayyadtuka biroohi alqudusi tukallimu alnnasa fee almahdi wakahlan wa-ith AAallamtuka alkitaba waalhikmata waalttawrata waal-injeela wa-ith takhluqu mina altteeni kahay-ati alttayri bi-ithnee fatanfukhu feeha fatakoonu tayran bi-ithnee watubri-o al-akmaha waal-abrasa bi-ithnee wa-ith tukhriju almawta bi-ithnee wa-ith kafaftu banee isra-eela AAanka ith ji/tahum bialbayyinati faqala allatheena kafaroo minhum in hatha illa sihrun mubeenun
110. 113 When will God say:
"O Jesus the son of Mary!
Recount My favour"'
To thee and to thy mother.
Behold! I strengthened thee
With the holy spirit,
So that thou didst speak
To the people in childhood
And in maturity.
Behold! I taught thee
The Book and Wisdom,
The Law and the Gospel.
And behold! thou makest
Out of clay, as it were,
The figure of a bird,
By My leave,
And thou breathest into it,
And it becometh a bird
By My leave,
And thou healest those
Born blind, and the lepers,
By My leave.
And behold! thou
Bringest forth the dead
By My leave ego
And behold! I did
Restrain the Children of Israel
From (violence to) thee
When thou didst show them
The Clear Signs,
And the unbelievers among them
Said: 'This is nothing
But evident magic.
---

111. Wa-ith awhaytu ila alhawariyyeena an aminoo bee wabirasoolee qaloo amanna waishhad bi-annana muslimoona
111. 114 "And behold! I inspired
The Disciples to have faith
In Me and Mine Apostle:
They said, 'We have faith,
And do thou bear witness
That we bow to God
As Muslims'."
---

112. Ith qala alhawariyyoona ya AAeesa ibna maryama hal yastateeAAu rabbuka an yunazzila AAalayna ma-idatan mina alssama-i qala ittaqoo Allaha in kuntum mu/mineena
112. 115 Behold! the Disciples said:
"O Jesus the son of Mary!
Can thy Lord send down to us
A Table set (with viands)
From heaven?" Said Jesus:
"Fear God, if ye have faith."
---

113. Qaloo nureedu an na/kula minha watatma-inna quloobuna wanaAAlama an qad sadaqtana wanakoona AAalayha mina alshshahideena
113. 116 They said: "We only wish
To eat thereof and satisfy
Our hearts, and to know
That thou hast indeed
Told us the truth; and
That we ourselves may be
Witnesses to the miracle."
---

114. Qala AAeesa ibnu maryama allahumma rabbana anzil AAalayna ma-idatan mina alssama-i takoonu lana AAeedan li-awwalina waakhirina waayatan minka waorzuqna waanta khayru alrraziqeena
114. 117 Said Jesus the son of Mary:
"O God our Lord!
Send us from heaven
A Table set (with viands),
That there may be for us
For the first and the last of us—
A solemn festival
And a. Sign from Thee;
And provide for our sustenance,
For Thou art the best
Sustainer (of our needs)."
---

115. Qala Allahu innee munazziluha AAalaykum faman yakfur baAAdu minkum fa-innee oAAaththibuhu AAathaban la oAAaththibuhu ahadan mina alAAalameena
115. 118 God said: "I will
Send it down unto you:
But if any of you
After that resisteth faith,
I will punish him
With a penalty such
As I have not inflicted
On any one among
All the peoples."