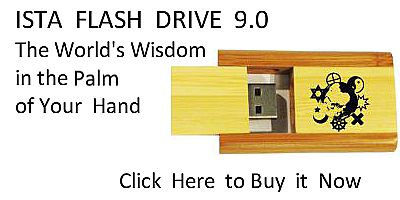 Sacred Texts
Islam
Index
Hypertext Qur'an
Unicode
Palmer
Pickthall
Yusuf Ali English
Rodwell
Sūra V.: Māïda, or The Table Spread. Index
Previous
Next
---


The Holy Quran, tr. by Yusuf Ali, [1934], at sacred-texts.com
---
Sūra V.: Māïda, or The Table Spread.
Section 2
---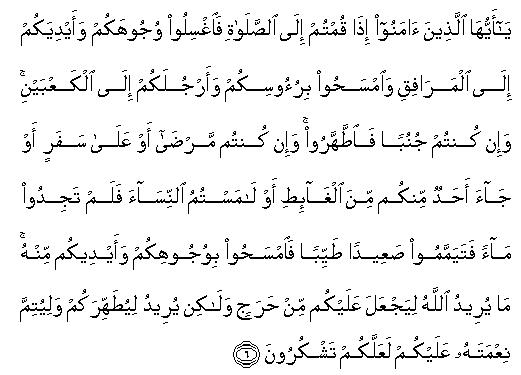 6. Ya ayyuha allatheena amanoo itha qumtum ila alssalati faighsiloo wujoohakum waaydiyakum ila almarafiqi waimsahoo biruoosikum waarjulakum ila alkaAAbayni wa-in kuntum junuban faittahharoo wa-in kuntum marda aw AAala safarin aw jaa ahadun minkum mina algha-iti aw lamastumu alnnisaa falam tajidoo maan fatayammamoo saAAeedan tayyiban faimsahoo biwujoohikum waaydeekum minhu ma yureedu Allahu liyajAAala AAalaykum min harajin walakin yureedu liyutahhirakum waliyutimma niAAmatahu AAalaykum laAAallakum tashkuroona
6. 7 O ye who believe!
When ye prepare
For prayer, wash
Your faces, and your hands
(And arms) to the elbows;
Rub your heads (with water);
And (wash) your feet
To the ankles.
If ye are in a state
Of ceremonial impurity,
Bathe your whole body.
But if ye are ill,
Or on a journey,
Or one of you cometh
From offices of nature,
Or ye have been
In contact with women,
And ye find no water,
Then take for yourselves
Clean sand or earth,
And rub therewith
Your faces and hands.
God doth not wish
To place you in a difficulty,
But to make you clean,
And to complete
His favour to you,
That ye may be grateful.
---

7. Waothkuroo niAAmata Allahi AAalaykum wameethaqahu allathee wathaqakum bihi ith qultum samiAAna waataAAna waittaqoo Allaha inna Allaha AAaleemun bithati alssudoori
7. 8 And call in remembrance
The favour of God
Unto you, and His Covenant,
Which He ratified
With you, when ye said:
"We hear and we obey":
And fear God, for God
Knoweth well
The secrets of your hearts.
---

8. Ya ayyuha allatheena amanoo koonoo qawwameena lillahi shuhadaa bialqisti wala yajrimannakum shanaanu qawmin AAala alla taAAdiloo iAAdiloo huwa aqrabu lilttaqwa waittaqoo Allaha inna Allaha khabeerun bima taAAmaloona
8. 9 O ye who believe!
Stand out firmly
For God, as witnesses
To fair dealing, and let not
The hatred of others
To you make you swerve
To wrong and depart from
Justice. Be just: that is
Next to Piety: and fear God.
For God is well-acquainted
With all that ye do.
---

9. WaAAada Allahu allatheena amanoo waAAamiloo alssalihati lahum maghfiratun waajrun AAatheemun
9. 10 To those who believe
And do deeds of righteousness
Hath God promised forgiveness
And a great reward.
---

10. Waallatheena kafaroo wakaththaboo bi-ayatina ola-ika as-habu aljaheemi
10. 11 Those who reject faith
And deny Our Signs
Will be Companions
Of Hell-fire.
---

11. Ya ayyuha allatheena amanoo othkuroo niAAmata Allahi AAalaykum ith hamma qawmun an yabsutoo ilaykum aydiyahum fakaffa aydiyahum AAankum waittaqoo Allaha waAAala Allahi falyatawakkali almu/minoona
11. 12 O ye who believe
Call in remembrance
The favour of God
Unto you when
Certain men formed the design
To stretch out
Their hands against you,
But (God) held back
Their hands from you:
So fear God. And on God
Let Believers put
(All) their trust.