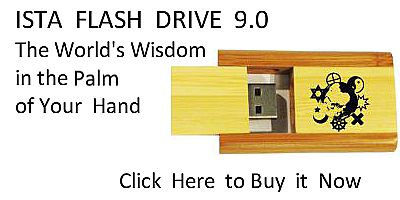 Sacred Texts
Islam
Index
Hypertext Qur'an
Unicode
Palmer
Pickthall
Yusuf Ali English
Rodwell
Sūra III.: Āl-i-'Imrān, or The Family of 'Imrān. Index
Previous
Next
---


The Holy Quran, tr. by Yusuf Ali, [1934], at sacred-texts.com
---
Sūra III.: Āl-i-'Imrān, or The Family of 'Imrān.
Section 9
---

81. Wa-ith akhatha Allahu meethaqa alnnabiyyeena lama ataytukum min kitabin wahikmatin thumma jaakum rasoolun musaddiqun lima maAAakum latu/minunna bihi walatansurunnahu qala aaqrartum waakhathtum AAala thalikum isree qaloo aqrarna qala faishhadoo waana maAAakum mina alshshahideena
81. Behold! God took
The Covenant of the Prophets,
Saying: "I give you
A Book and Wisdom;
Then comes to you
An Apostle, confirming
What is with you;
Do ye believe in him
And render him help."
God said: "Do ye agree,
And take this my Covenant
As binding on you?"
They said: "We agree."
He said: "Then bear witness,
And I am with you
Among the witnesses."
---

82. Faman tawalla baAAda thalika faola-ika humu alfasiqoona
82. If any turn back
After this, they are
Perverted transgressors.
---

83. Afaghayra deeni Allahi yabghoona walahu aslama man fee alssamawati waal-ardi tawAAan wakarhan wa-ilayhi yurjaAAoona
83. Do they seek
For other than the Religion
Of God?—while all creatures
In the heavens and on earth
Have, willing or unwilling,
Bowed to His Will
(Accepted Islam),
And to Him shall they
All be brought back.
---

84. Qul amanna biAllahi wama onzila AAalayna wama onzila AAala ibraheema wa-ismaAAeela wa-ishaqa wayaAAqooba waal-asbati wama ootiya moosa waAAeesa waalnnabiyyoona min rabbihim la nufarriqu bayna ahadin minhum wanahnu lahu muslimoona
84. Say: "We believe
In God, and in what
Has been revealed to us
And what was revealed
To Abraham, Ismā'īl;
Isaac, Jacob, and the Tribes,
And in (the Books)
Given to Moses, Jesus,
And the Prophets,
From their Lord:
We make no distinction
Between one and another
Among them, and to God do we
Bow our will (in Islam)."
---

85. Waman yabtaghi ghayra al-islami deenan falan yuqbala minhu wahuwa fee al-akhirati mina alkhasireena
85. If anyone desires
A religion other than
Islam (submission to God),
Never will it be accepted
Of him; and in the Hereafter
He will be in the ranks
Of those who have lost
(All spiritual good).
---

86. Kayfa yahdee Allahu qawman kafaroo baAAda eemanihim washahidoo anna alrrasoola haqqun wajaahumu albayyinatu waAllahu la yahdee alqawma alththalimeena
86. How shall God
Guide those who reject
Faith after they accepted it
And bore witness
That the Apostle was true
And that Clear Signs
Had come unto them?
But God guides not
A people unjust.
---

87. Ola-ika jazaohum anna AAalayhim laAAnata Allahi waalmala-ikati waalnnasi ajmaAAeena
87. Of such the reward
Is that on them (rests)
The curse of God,
Of His angels,
And of all mankind;—
---

88. Khalideena feeha la yukhaffafu AAanhumu alAAathabu wala hum yuntharoona
88. In that will they dwell;
Nor will their penalty
Be lightened, nor respite
Be their (lot);—
---

89. Illa allatheena taboo min baAAdi thalika waaslahoo fa-inna Allaha ghafoorun raheemun
89. Except for those that repent
(Even) after that,
And make amends;
For verily God
Is Oft-Forgiving,
Most Merciful.
---

90. Inna allatheena kafaroo baAAda eemanihim thumma izdadoo kufran lan tuqbala tawbatuhum waola-ika humu alddalloona
90. But those who reject
Faith after they accepted it,
And then go on adding
To their defiance of Faith,—
Never will their repentance
Be accepted; for they
Are those who have
(Of set purpose) gone astray.
---

91. Inna allatheena kafaroo wamatoo wahum kuffarun falan yuqbala min ahadihim milo al-ardi thahaban walawi iftada bihi ola-ika lahum AAathabun aleemun wama lahum min nasireena
91. As to those who reject
Faith, and die rejecting,—
Never would be accepted
From any such as much
Gold as the earth contains,
Though they should offer it
For ransom. For such
Is (in store) a penalty grievous,
And they will find no helpers.