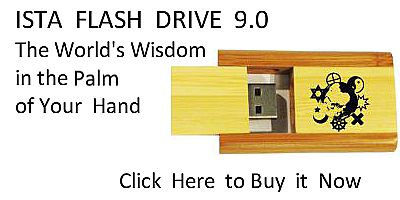 Sacred Texts
Islam
Index
Hypertext Qur'an
Unicode
Palmer
Pickthall
Yusuf Ali English
Rodwell
Sūra III.: Āl-i-'Imrān, or The Family of 'Imrān. Index
Previous
Next
---


The Holy Quran, tr. by Yusuf Ali, [1934], at sacred-texts.com
---
Sūra III.: Āl-i-'Imrān, or The Family of 'Imrān.
Section 5
---

42. Wa-ith qalati almala-ikatu ya maryamu inna Allaha istafaki watahharaki waistafaki AAala nisa-i alAAalameena
42. Behold! the angels said:
"O Mary! God hath chosen thee
And purified thee—chosen thee
Above the women of all nations.
---

43. Ya maryamu oqnutee lirabbiki waosjudee wairkaAAee maAAa alrrakiAAeena
43. "O Mary! worship
Thy Lord devoutly:
Prostrate thyself,
And bow down (in prayer)
With those who bow down."
---

44. Thalika min anba-i alghaybi nooheehi ilayka wama kunta ladayhim ith yulqoona aqlamahum ayyuhum yakfulu maryama wama kunta ladayhim ith yakhtasimoona
44. This is part of the tidings
Of the things unseen,
Which We reveal unto thee
(O Apostle!) by inspiration:
Thou wast not with them
When they cast lots
With arrows, as to which
Of them should be charged
With the care of Mary:
Nor wast thou with them
When they disputed (the point).
---

45. Ith qalati almala-ikatu ya maryamu inna Allaha yubashshiruki bikalimatin minhu ismuhu almaseehu AAeesa ibnu maryama wajeehan fee alddunya waal-akhirati wamina almuqarrabeena
45. Behold! the angels said:
"O Mary! God giveth thee
Glad tidings of a Word
From Him: his name
Will be Christ Jesus,
The son of Mary, held in honour
In this world and the Hereafter
And of (the company of) those
Nearest to God;
---

46. Wayukallimu alnnasa fee almahdi wakahlan wamina alssaliheena
46. "He shall speak to the people
In childhood and in maturity.
And he shall be (of the company)
Of the righteous."
---

47. Qalat rabbi anna yakoonu lee waladun walam yamsasnee basharun qala kathaliki Allahu yakhluqu ma yashao itha qada amran fa-innama yaqoolu lahu kun fayakoonu
47. She said: "O my Lord!
How shall I have a son
When no man hath touched me?"
He said: "Even so:
God createth
What He willeth:
When He hath decreed
A Plan, He but saith
To it, 'Be,' and it is!
---

48. WayuAAallimuhu alkitaba waalhikmata waalttawrata waal-injeela
48. "And God will teach him
The Book and Wisdom,
The Law and the Gospel,
---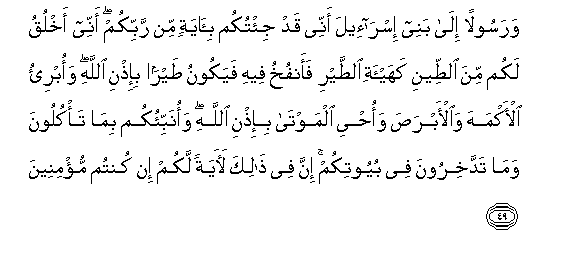 49. Warasoolan ila banee isra-eela annee qad ji/tukum bi-ayatin min rabbikum annee akhluqu lakum mina altteeni kahay-ati alttayri faanfukhu feehi fayakoonu tayran bi-ithni Allahi waobri-o al-akmaha waal-abrasa waohyee almawta bi-ithni Allahi waonabbi-okum bima ta/kuloona wama taddakhiroona fee buyootikum inna fee thalika laayatan lakum in kuntum mu/mineena
49. "And (appoint him)
An apostle to the Children
Of Israel, (with this message):
"'I have come to you,
With a Sign from your Lord,
In that I make for you
Out of clay, as it were,
The figure of a bird,
And breathe into it,
And it becomes a bird
By God's leave:
And I heal those
Born blind, and the lepers,
And I quicken the dead,
By God's leave;
And I declare to you
What ye eat, and what ye store
In your houses. Surely
Therein is a Sign for you
If ye did believe;
---

50. Wamusaddiqan lima bayna yadayya mina alttawrati wali-ohilla lakum baAAda allathee hurrima AAalaykum waji/tukum bi-ayatin min rabbikum faittaqoo Allaha waateeAAooni
50. "'(I have come to you),
To attest the Law
Which was before me.
And to make lawful
To you part of what was
(Before) forbidden to you;
I have come to you
With a Sign from your Lord.
So fear God,
And obey me.
---

51. Inna Allaha rabbee warabbukum faoAAbudoohu hatha siratun mustaqeemun
51. "'It is God
Who is my Lord
And your Lord;
Then worship Him.
This is a Way
That is straight.'"
---

52. Falamma ahassa AAeesa minhumu alkufra qala man ansaree ila Allahi qala alhawariyyoona nahnu ansaru Allahi amanna biAllahi waishhad bi-anna muslimoona
52. When Jesus found
Unbelief on their part
He said: "Who will be
My helpers to (the work
Of) God?" Said the Disciples:
"We are God's helpers:
We believe in God,
And do thou bear witness
That we are Muslims.
---

53. Rabbana amanna bima anzalta waittabaAAna alrrasoola faoktubna maAAa alshshahideena
53. "Our Lord! we believe
In what Thou hast revealed,
And we follow the Apostle;
Then write us down
Among those who bear witness."
---

54. Wamakaroo wamakara Allahu waAllahu khayru almakireena
54. And (the unbelievers)
Plotted and planned,
And God too planned,
And the best of planners
Is God.