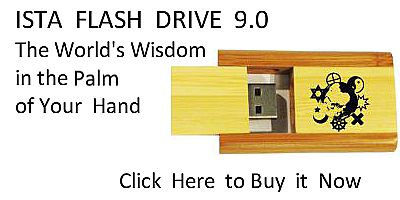 Sacred Texts
Hinduism
F.W. Bain
Index
Next
---
THE
DESCENT OF THE SUN

A CYCLE OF BIRTH
TRANSLATED FROM THE ORIGINAL MANUSCRIPT
by
F.W. BAIN
SIXTH EDITION
METHUEN & Co. LTD.
36 Essex Street W.C.
LONDON
1914
(Vol II. in Bain's Indian Stories)
[1903]
NOTICE OF ATTRIBUTION
Scanned at sacred-texts.com, March 2005. John Bruno Hare, redactor. This text is in the public domain in the US because it was published prior to 1922. These files may be used for any non-commercial purpose, provided this notice of attribution is left intact in all copies.


Click to enlarge
Frontispiece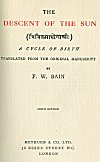 Click to enlarge
Title Page


(The illusion of a waking dream.)
Like a Digit of the Moon
In the Shadow of the Earth
Spirit undergoeth Swoon
In the Vestibule of Birth:
Dreameth transitory Trouble,
Weareth Hues of Heaven, hurled
Hither, thither, as a Bubble
On the Ocean of the World.

'and in a dream I saw a lotus fallen from heaven'


Click to enlarge
Page 2

| | |
| --- | --- |
| Originally Published by Messrs. James Parker &Co. | 1903 |
| Second Edition | 1903 |
| Third Edition | 1906 |
| Fourth Edition | 1909 |
| First Published by Methuen & Co. Ltd. | June 1910 |
| Fifth Edition | February 1911 |
| Sixth Edition | 1914 |


Click to enlarge
Verso

DEDICATED
TO
MARGARET
---
Next: Introduction